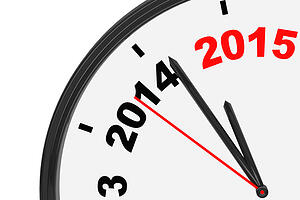 Join us for our December blog series- a month of Inbound Marketing Tips to help you make 2015 your best year yet. Each week we will offer you actionable inbound marketing tips. If you implement all of them, by the time New Year's Eve rolls around you will have your inbound marketing plan for 2015 built and ready to go!
Inbound marketing is the process of:
Attracting more traffic to your website
Converting more traffic into leads
Converting more leads into customers
Measure & analyzing each step for continuous improvement
Unlike other marketing and advertising expenses, inbound marketing is an investment that produces compounding results over time; As you create inbound marketing assets like blog posts, landing pages, links and social media followings, they will help you attract traffic, capture leads and convert leads into customers - every day into the future.
To get started with an inbound marketing plan for your busines, you first need to set some goals. The goals you set need to be specific, measurable, attainable, realistic and time limited. But another important aspect of goal setting is your commitment, and your understanding of the price you will pay if you don't meet the goal. If you are not committed to your inbound marketing strategy, it will be easy to give up when the first obstacle presents itself. Inbound marketing takes time, and you have to be wlling and able to stay the course for 4-6 months to start getting results.
So, let's get started. What is the revenue number you want to hit in 2015? Once you have that figure in mind, download our inbound marketing calculator using the link below.
The calculator determines your traffic, lead and customer acquisition goals based on your monthly new revenue targets. You'll plug in your revenue goals and estimated conversion rates into the calculator. The calculator will tell you how much traffic and how many leads you need to generate in order to hit your revenue goals. It'll also help you evaluate which inbound marketing activities to implement first by letting you vary your lead to customer and visit to customer conversion rates to determine your traffic and lead requirements. For example, if you improve visit to lead conversion rates, you'll need less traffic to hit your revenue targets: Therefore, it would make the most sense to create more offers, build landing pages and prominently place calls to action on your website in order to convert more visitors to leads. With diligence, it is possible to increase your visitor to lead conversion rate to 5+%. Most websites convert traffic into leads at 1-2%.
Want some help with this process? Read this blog post for more details on how to set goals, or schedule a complimentary inbound marketing assessment and we will walk you through it.