Lance Roux, owner of SafetyPro Resources, was frustrated. His website, which he had spent thousands of dollars on, was beautiful, but had little to no traffic. He had always gotten most of his clients through referrals, but now he was trying to grow beyond that. He spent money on industry trade shows, print advertising, and sponsorships, but was not seeing much of a return on his investment.
An Inbound Marketing Case Study
When he approached me to help him with his marketing, he was frustrated by his lack of visibility in Google searches for safety consultants in Baton Rouge. When he heard about
inbound marketing
and HubSpot in October of 2013, he was willing to give it a try, and he brought me in to help him implement his HubSpot marketing strategy.
We both jumped in with both feet. I had never used HubSpot before, but was familiar with the strategies and concepts behind inbound marketing. I eagerly absorbed every HubSpot training and best practice, and implemented it on his website as soon as possible. After a few weeks, I realized that his current website, although beautifully designed, would not allow me the flexibility I needed so we had the site migrated to the HubSpot COS platform.
We developed two buyer personas and set up a blogging schedule of two posts per week. And then we began to build premium content and offers which we began to accumulate on SafetyPro's Resources page. At first progress seemed slow. We had few visitors to our early blog posts, and it took us a while to get subscribers. But gradually, as we began to add more content offers and refine our keyword research, we began to build momentum.
By April of 2014, we achieved a 13.9x increase in traffic from all sources, a 9.5x increase in organic traffic, and a 6x increase in the number of leads generated from the website. This screenshot of the Sources traffic report for organic traffic, taken from SafetyPro's HubSpot portal, says it all.

Update: As of 8/29/18, SafetyPro Resources has grown monthly organic traffic to nearly 7,000 visits per month and our inbound marketing efforts routinely bring in between 80-125 inbound leads per month. This is the power of what a consistent inbound marketing strategy can do for your business.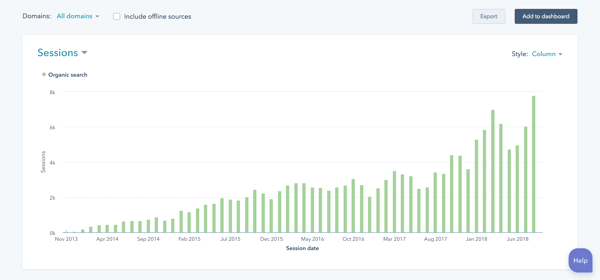 Getting these results wasn't easy. We spent many hours creating content for premium offers and coming up with blog posts. But we have seen impressive results over time. As this inbound marketing case study shows, these strategies work. But they take patience, commitment, and dedication. For many companies, it will require an investment in the services of a professional inbound marketing firm to make sure it gets executed. To find out if inbound marketing can help you turn your website into a reliable source of revenue for your business, contact us for a free consultation. You can apply for a Discovery Call here.
Note: This blog was originally published on May 27, 2014. It has been updated as of 8/29/2018.