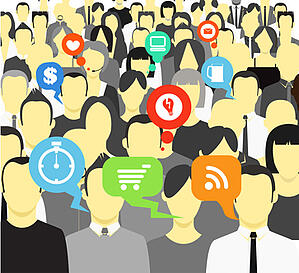 Buyer personas are fictional, generalized descriptions of your ideal customers. They help you understand your customers and tailor your marketing to the specific needs, behaviors, and concerns of different types of customers. Creating buyer personas is a time consuming process, but one that has been proven time and time again to improve your company's marketing results. Here are our best practices for creating and using buyer personas in your inbound marketing.
Follow a Formal Persona Development Process
The strongest buyer personas are based on market research and interviews of your actual customers. Depending on your business, you could have as few as one or two personas, or as many as 10 or 20. Your company should follow a formal development process to uncover the roles, decision process and pain points of each of your buyer personas.
Don't forget about negative personas. These are representations of the people you don't want as customers. For example, professionals who are too advanced for your product or service, students who are just looking for knowledge, or potential customers who are not good fit for you due to their low average sales price or lack of budget for your product or service. By including negative personas in your process, you will be able to segment out these bad prospects from the rest of your contacts. This can help you achieve a lower cost-per-lead and cost-per-customer.
Develop Messaging and Positioning For Each Persona
At the most basic level, personas allow you to personalize or target your marketing for different segments of your audience. For example, instead of sending the same lead nurturing emails to everyone in your database, you can segment by buyer persona and tailor your messaging according to what you know about those different personas. You can send different content to each persona, and that way everyone gets the most relevant content for them. You can also use personas to personalize your website so that you show the most appropriate content offers to each person who visits, based on what persona category they fall into.
Map Your Content to Buyer Personas and Lifecycle Stages
By taking account lifecycle stage (i.e. how far along someone is in your sales cycle- from prospect to customer), buyer personas also allow you to map out and create highly targeted content to be delivered to your prospects at the right stage in the buyer's journey. For example, if your buyer persona is the CEO of a construction company, you would create a series of offers for that persona to target his or her needs during the awareness, consideration and decision stages of the buying process.
Capture Persona Data Through Your Lead Generation Forms
Once you understand the psychographics of your buyer personas, you can use this information to customize your lead generation forms. This will allow you to capture persona information through the lead generation process. For example, if your personas vary based on company size or work in a particular industry, ask each lead for information about company size and industry on your forms.