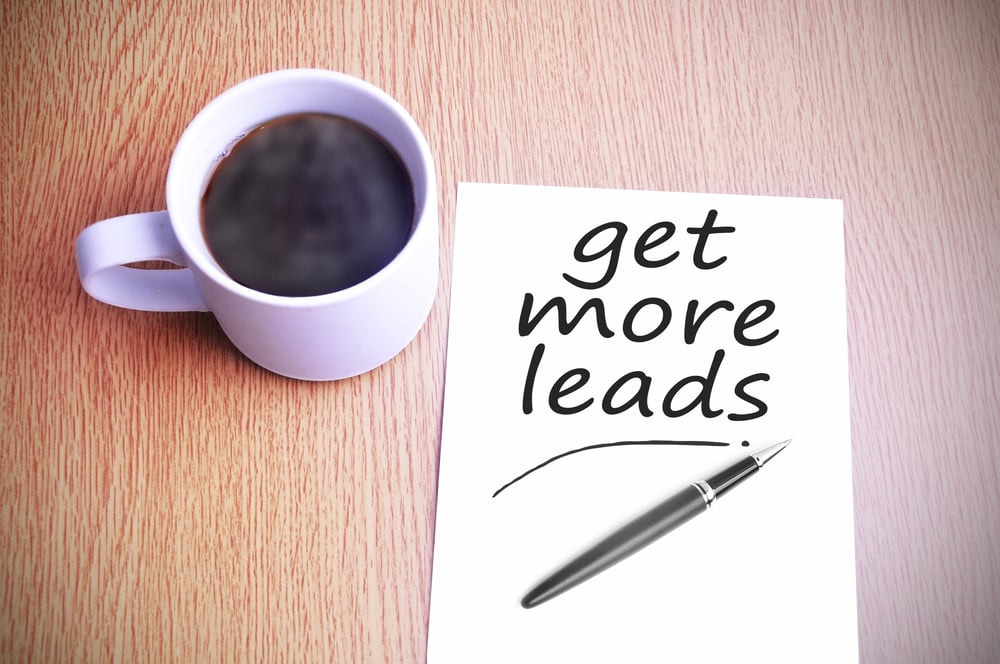 Last week, a small travel agency owner asked me about using Facebook to generate leads for a group tour that her agency is hosting. Does it still work, even after the algorithm changes? My answer is yes, it still works, but you need to have several key elements in place to make this successful for your company. To better answer her question, I decided to write up a case study here that explains what's involved.
Roux Luxury Travel is marketing a small group tour to Burgundy France. They are looking to generate leads online and have a landing page already set up on their website to collect leads. They've been marketing the trip via their own organic traffic, emails to their list, and posted the trip on Local Wine Events. As the deadline to fill their group approaches, they've decided to leverage their Facebook presence (both personal and business) to generate leads and fill up this trip.
How Many Leads do You Need to Generate?
Roux Luxury Travel typically converts about 20% of their leads into closed business. But Facebook leads are not all highly qualified, so we'll drop that number to 10%. This means that if Roux Luxury Travel wants to generate 10 bookings for their river cruise, they need at least 100 leads.
Using Facebook to Generate Organic Leads
It's getting harder to get business posts seen on Facebook these days, even if you have thousands of followers, Roux Luxury Travel has over 4,700 followers, but their posts only reach about 60-100 people. They need more than that number to see the posts regarding their Burgundy River Cruise trip if they're going to get enough leads. They can increase their reach by posting multiple versions of their post on their personal profile and their business page, but it's difficult to generate enough leads from just organic activities since they don't have a huge following.
To generate leads, they decided to post an image with a link to the trip landing page. Here's an example of a post with a link to the landing page: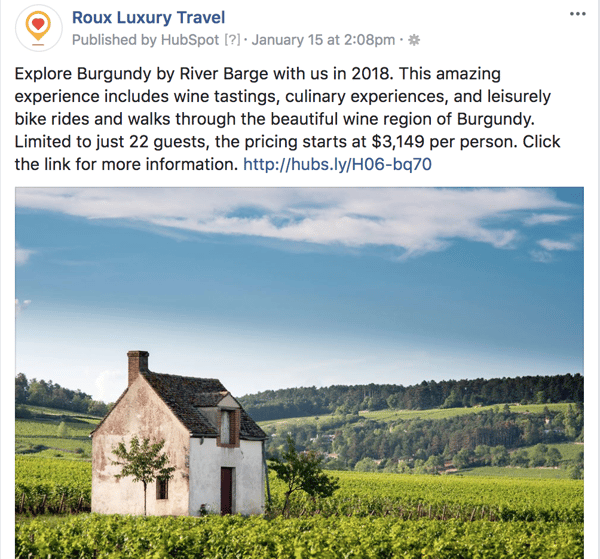 There is a way around this, by using the "Boost Post" ad objective to pay Facebook to show your posts to more of your followers. This can be a good way to get your posts seen, and can be great for increasing engagement and building your brand, but rarely generates leads in the short term. Still, we've found it can be beneficial to allocate a small percentage of your ad budget (around 10%) to these types of posts, because it helps to warm up your audiences for your lead generation ads.
Another tip is to use videos and Facebook Live to promote the trip, since these formats tend to get more views. Here's an example of a video post: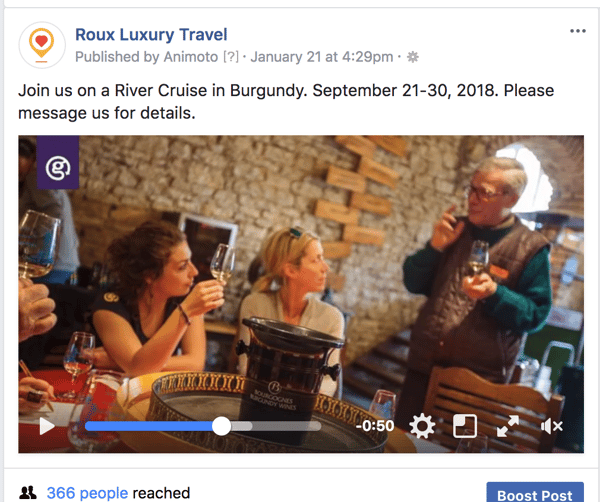 Do Facebook Ads Make Sense in Your Case?
If the average revenue from a booking is at least $500, it may make sense to advertise. According to data published by WordStream, average cost per lead for Facebook Advertisers in the travel and leisure industry is $22.50. However you may get better results if you work with a professional. In my recent campaign for Roux Luxury Travel, I'm getting a cost per lead of around $5.00. This means it will cost $500 to generate the 100 leads they need, so their cost per booking will be about $50 if they close 10% of their leads. If they're willing to spend $50 to generate a booking, then Facebook ads could be a good strategy for them.
Creating Facebook ads is easy to do yourself, but getting great results can be tricky, specially if you've never advertised before. There is a lot to learn to do it profitably. The Facebook algorithm is great at targeting people, but you have to be willing to invest enough ad spend up front so Facebook can collect enough data to find the right ones for your campaign. We don't recommend any budget below $175 per week for advertisers in the travel industry. In our experience, tiny budgets take a long time to work and the ads are difficult to optimize.
Here's an example of a Facebook Ad: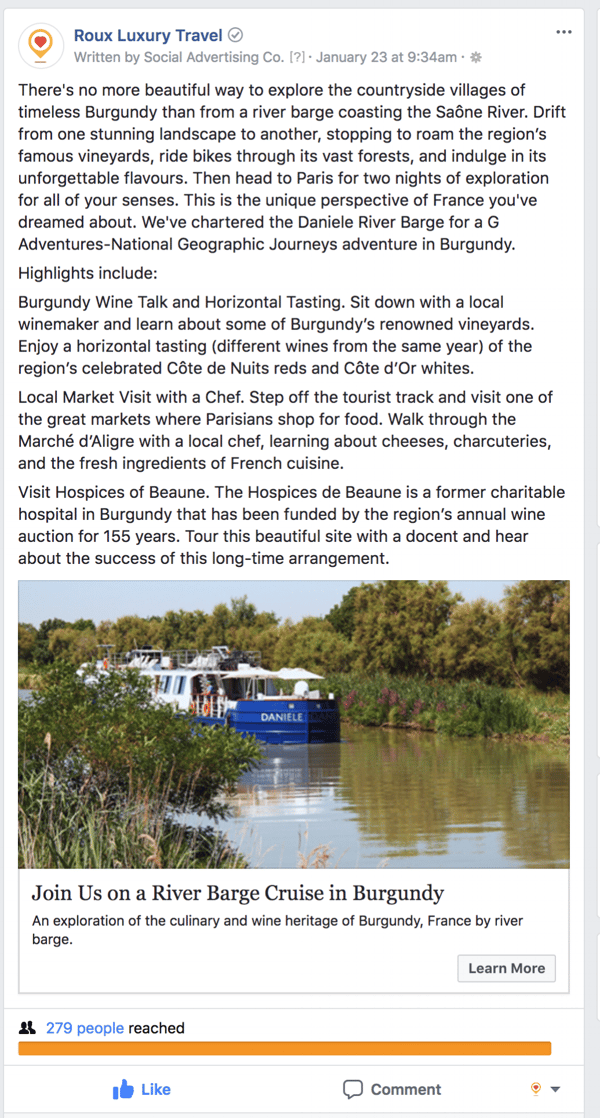 Should You Use Facebook Lead Ads or Drive Clicks to Your Own Landing Page?
The next decision is what types of ads to run. We've tried both for Roux Luxury Travel, and for this client, we've found the Facebook Lead Ads get more leads at a lower cost. It makes sense, because in Facebook Lead Ads, the customers stay on Facebook and all of their contact information automatically gets filled in and sent to the advertiser. This makes it easier or the end user and may increase conversions. Every business is different, and it depends on who you're targeting, but here are some of the factors to consider in making your decision to go for Lead Ads or Click ads.
| | |
| --- | --- |
| Facebook Lead Ads | Click to Landing Page |
| You don't need a landing page, the user stays on Facebook, so you get more leads | You will need to build out a landing page to send traffic to. Users will go to your website from Facebook. |
| Lower Cost per Lead | Higher cost per lead |
| Tends to perform better if your prospects see your ad on a mobile device | Tends to perform better if your prospects are on a desktop computer |

Of course, all of these leads will require personal follow up. Especially with Facebook Ads, we've found that you need to respond immediately upon receipt of the lead, or the user forgets that they even requested information from you. Marketing automation that immediately sends a follow up email is a great idea, but don't forget the power of a follow up phone call.
Next Steps
Thinking of using Facebook to generate travel leads? You may also want to check out our Travel Industry Guide to Lead Generation. If you need help implementing an inbound marketing strategy for your travel agency or tour company, feel free to schedule a call with us.