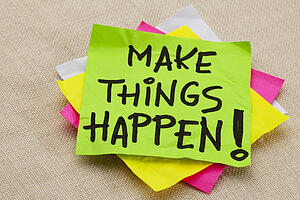 If you are frustrated with your small business's marketing results, but aren't able or willing to outsource the entire project to a marketing agency, a marketing coach might be exactly what you need to help you get back on track. If you are doing all of your inbound marketing yourself, but having trouble making things happen, a coach can help you set goals, make a plan, and hold you accountable.
What's the Difference Between a Marketing Coach and a Marketing Agency?
A marketing agency will the work for you, but a coach advises and helps you get the work done yourself. Some of the things a marketing coach will do for you include:
Help you identify your marketing challenges and obstacles
Help you identify solutions and actions to take to solve your marketing challenges rather than just telling you what to do
Support you in setting appropriate marketing goals
Support you in creating and executing your marketing action plan
Encourage you to take action and make lasting changes
Provide support during the entire process
Evaluate results to make sure you are achieving your goals
Help you achieve results you may have not been able to get to on your own
What Types of Goals Can a Marketing Coach Help Me Achieve?
If you've never worked with a coach before, this might be hard to understand, here are some examples of the types of outcomes a coach can help you achieve:
Get more clients
Generate more work with existing clients
Attract the right kind of referrals
Expand your name recognition
Drive new revenue into your business
Spend more time enjoying your life
How Do I Know If I Need a Marketing Coach?
If you want to stay personally involved in your marketing but need support, ideas, and someone who has done this before to advise you and hold you accountable, you should consider hiring a coach. If you are not meeting your goals, and are not able to get the results you desire for your business, a coach can help you see the obstacles that are holding you back and help you clear them so you can achieve the success your deserve.