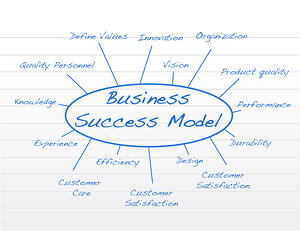 The life of the entrepreneurial business owner can be stressful. On any given day, you have lots of things to worry about. Are your employees doing their jobs? Is there enough money in the bank to make payroll? Are your revenues on track? As you hire employees, this quickly gets worse until you are so frustrated you don't know what to do. How do you get your life back? And still make a profit?
One way to get control back is to implement management systems in your business, and my favorite system is the Entrepreneurial Operating System ("EOS") presented in the book Traction by Gino Wickman. What I love about the EOS, is that it is simple, easy to implement, and effective. It breaks down the six most important components of your business and focuses your energies on the components drive 80% of your business results.
The Six Components of the Entrepreneurial Operating System
Vision. To be successful you need to have a compelling vision and it needs to be shared by everyone on your team.

People. You first need to develop an accountability chart for your business. This is similar to an organizational chart, but instead of focusing on job titles, it is all about roles and responsibilities. Once you have identified the roles you need to run your business, the next step is to make sure you have the right people in the right seats. This means that every person in your organization gets your core values, wants to be in their role, and has the skills and ability to perform effectively in their role.

Data. You shouldn't run your business on your gut feelings. The most successful businesses rely on data to manage their progress towards goals by developing a weekly scorecard of the key metrics for your business. Your scorecard shows you how your business is performing, helps you predict future performance, and alerts you to areas that may be falling off track. By developing the discipline of the weekly scorecard, you will no longer be blindsided by disappointing financial results when it is too late to do something about them.

Issues. Every business has issues that must be resolved before the business can achieve it's owner's goals. By developing effective ways to handle issues in your company, you will be able to overcome them. First, you need an environment where it is safe for your team members to bring up issues. Second, you need to prioritize them so you work on the most critical ones first. Finally, you need a system for solving issues in a productive way.

Process. A process is the unique way your company handles things. We recommend you identify your most important core processes and document them. When this step is complete, your processes will be clearly identified, documented, understood and followed by everyone in your organization.

Traction. The best management system in the world is useless without execution. The final component of the system is to take what you developed and make it happen in the real world. There are two parts to creating traction. The first is to assign 90-day goals to each team member, which we call Rocks. And the second is to institute the practice of regular weekly meetings, which we call Level 10 Meetings. This combination of assignment and accountability creates a way for your company to move forward towards your goals.
Take Action Now
Now that you know the six key components, the next step is to figure out where you stand. Download our Organizational Checkup Spreadsheet and calculate your score today.