What would you do if you had twice as many customers this time next month?
It'd be great, right?
There are just three ways to grow your travel business.
1) Bring in more customers
2) Get your customers to buy more from you each time they buy from you
3) Get your customers to come back and buy from you more often
Sounds simple, right?
But within each of the three categories above, there are numerous strategies and tactics that you could implement. And any given one of them could be enough to double your sales in 30-90 days.
For example:
If you already have lots of website traffic, increasing the number of visitors who turn into leads could be enough to double your sales.
If you have lots of existing customers, the quickest way to double sales could be to reach out to them with offers to get them to come back to you more frequently and/or refer their friends to you.
If your current product offering has upgrade potential, another way to easily double your sales is to get your existing bookings to upgrade and add additional services
The problem most business owners have is that they either try to do everything at once and fail to focus their energies on doing one of these effectively, or they are overwhelmed by the choices and end up doing nothing because they lack clarity.
So how do you fix this?
We think the best way to begin the process is with a Customer Value Journey Audit. The Customer Value Journey is the 8-step path your prospects follow from the first moment they become aware of you, until they become raving fans. Analyzing your marketing performance at each step gives you the insight you need to to cut through the conflicting advice you find on Facebook, LinkedIn and the internet so you can focus on the phase that has highest potential return.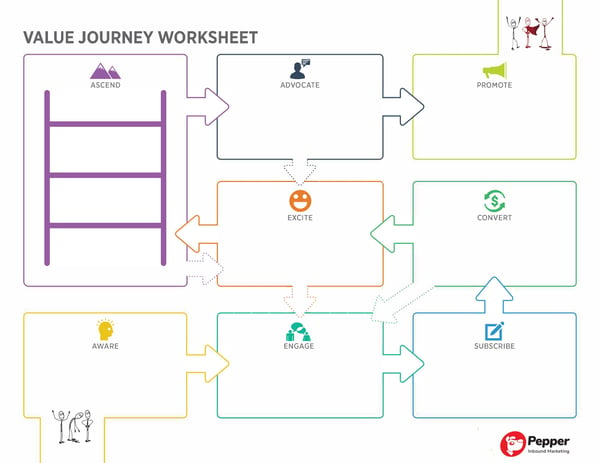 Want to learn more about the customer value journey and how it applies to your business? Schedule a strategy session with us today.