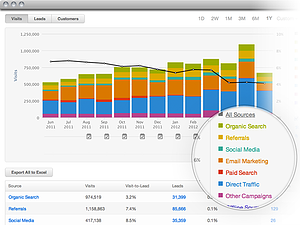 In order to effectively do inbound marketing for your business, you will need software that can help you manage the following tasks. The following is a checklist of features you should consider when evaluating inbound marketing software for your business.
Tools To Help You Attract More Traffic
Any software solution you choose should help you with the following tasks:
Keyword research
SEO link analysis
SEO page analysis
Blogging software (with SEO analysis built in)
Social media publishing and monitoring tools
A content management system for your website
Tools For Converting Traffic Into Leads and Customers
Your software should provide:
A tool for building landing pages easily
A lead management database
Email lead nurturing campaigns
Prospect identification
Lead intelligence and tracking of your lead's activities on your website
Lead segmentation based on buyer personas and target markets
Email marketing tools
Analysis for Continuous Improvement
Your software should make it easy for you to monitor your marketing performance. Features to look for include:
Closed loop marketing and website analytics, so you can track where each customer is coming from
A customer relationship management (CRM) system
Blog analytics so you can identify high performing topics
Social media analytics
Competitive analytics so you can find out how you rank against your competitors
Integration Points to Coordinate Your Efforts and Maximize Results
The best software solutions integrate the following tools so that you can make good marketing decisions:
Keyword research and web analytics
On page SEO and content management system
Social media and blogging
CRM integration with landing pages
Landing pages with web analytics
CRM integration with web analytics
Of course, it is possible to use diffrent sofware solutions to achieve each of these four goals. But using an integrated platform can help keep you on track without a lot of double entry and wasted time. If you are interested in seeing how all of these features can work together to create life-changing marketing results, request a demo of HubSpot and let us show you.