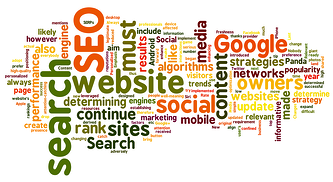 If you are like most of my small business clients, you have a pretty nice website already. But are you getting a return on investment on the thousands of dollars you spent on it? A website is of little use if it doesn't help you get leads and customers, and a lack of traffic could be due to numerous factors. One of the first areas I look at when assessing a potential client's website is SEO optimization.
If you are not getting enough traffic, one factor could be that your site's pages are not optimized for search engines. Here are five tips to get your website found online.
Build quality inbound links to your site from other quality websites. Search engines will penalize you if you use purchased spam links, so stay away from those tactics. What you want are links from other reputable and authoritative sites in your industry. Besides getting your site listed on online directories, the best way to create links is to publish valuable, entertaining, or educational content that others will want to share.
On-page SEO. On-page SEO involves including your most important keywords within the Headlines, Sub-headlines, Body Content, Image Tags, and Links of a web page. You should focus on one primary keyword for each page. Don't use your keyword too many times, and remember to write your pages for human readers, not search engines.
Optimize your Title Tags and Meta Tags. Good title tags and a good meta description can help improve your results. When your website comes up in search results, the title and description are displayed on the page. Having a good description that provides a preview of the page's content will entice visitors interested in that topic to visit your page.
XML Site Maps. Creating a site map, and keeping it updated, can make it easier for search engines to crawl your site.
301 Redirects. If you move a web page on your site to a new url, you will need to create a 301 redirect. A 301 redirect will point the old page url to the new page and prevent someone with an old link from getting a "page not found" error. Failure to redirect the old page address to new page will cause you to lose any SEO status the old page had, so this is important.
In addition to SEO optimization, there 20 more areas of your website you should look at to make sure you are getting the most traffic, leads and sales possible. Download the ebook below to get the rest of the story.