Most entrepreneurs are stuck in survival mode. Every day they go to work and put out fires, take client calls, deal with issues. When they fail to meet their business goals, they look for solutions. But often these solutions, while they address the immediate problem, end up taking them away from the path to long term success. This is because instead of focusing on their long term strategic goals, they are too busy trying to fix an immediate problem.
In Fix This Next, author Mike Michalowicz calls this the Survival Trap. When you're in a bad situation, you look for the quickest easiest way to get out of it. Often this takes you to a place that's not aligned with your ultimate business goals. What you should do instead, is to look for the root cause of your business challenges, and solve those, instead of just implementing a quick fix. This requires taking a step back, and looking at your business through the lens of the Business Hierarchy of Needs, as shown below.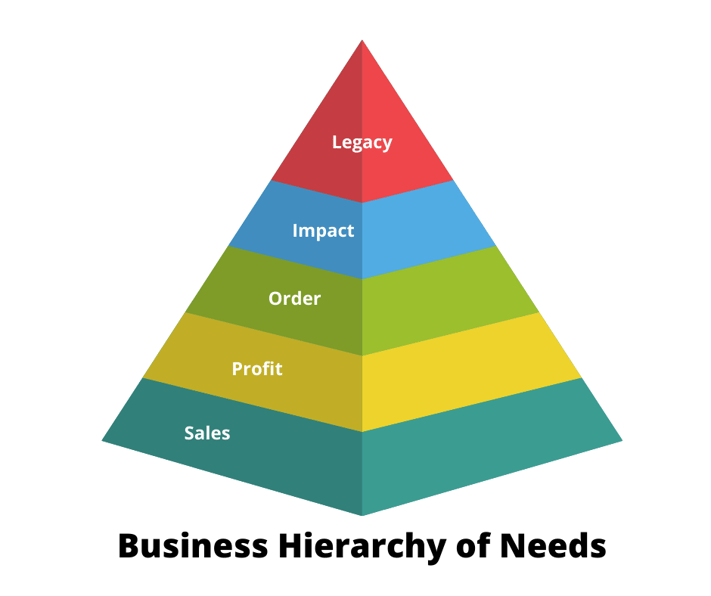 This framework places the needs of your business in a hierarchy, where the most fundamental things your business needs to survive are at the base, and your more aspirational needs are near the top. Looking at your business with this framework allows us to focus on the most important foundational issues first.
The most important of these needs is Sales, or the creation of cash. Cash is the lifeblood of your business, and without it, your business will die.
Next we look at Profits, which is what creates stability and longevity for your business.
Then we need Order, which creates efficiency in a business and allows it to operate without the owner being present.
Then there's Impact, which is the creation of transformation.
And finally Legacy, the businesses at this stage will outlive the founder and continue on.
Mike Michalowicz - Fix This Next - BHN from Obsidian on Vimeo.
When we coach clients using this system, the first step is a discovery session to address where the biggest need is. Within each of these levels, there are five core needs we need to address. During our Discovery Sessions with each client we will ask questions that address whether the business has mastered each of the core needs at each level.
For example, when evaluating sales, we consider these five areas.
Lifestyle Congruence - Do you know the level of sales needed to achieve your desired lifestyle?
Prospect Attraction - Do you attract enough high quality prospects to achieve your income goals?
Client Conversion - Do you convert enough of your prospects into clients?
Delivering on Commitments- Are you fully delivering on your promises to your clients? Are you delivering on time?
Collecting on Commitments - Are your clients delivering on their commitments to you? For example, are they paying you on time.
Then we assess the other core levels: Profit, Order, Impact and Legacy. Once we complete the assessment, we deliver a recommendation to the client on what they should work on next, based on determining their vital needs, and starting with the foundational ones at the bottom of the pyramid. Once we solve one, we re-evaluate and move on to the next core need.
As a certified Fix This Next Coach, I can guide you through this process. If you're interested in learning more, use the link below to book a call with me.