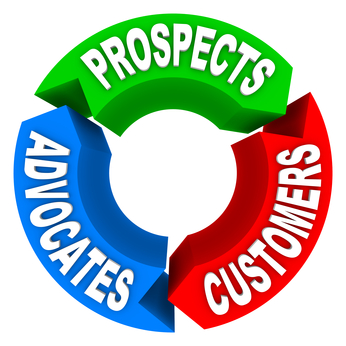 Developing an effective sales and marketing strategy for your small business can be difficult. Infusionsoft's Lifecycle Marketing model provides a simple framework you can use to attract customers, grow sales and deliver a "wow" customer experience. Developed by a team of sales and marketing experts at Infusionsoft, Lifecycle Marketing has helped thousands of small businesses grow.
The beauty of Lifecycle Marketing is the simplicity of the framework, which can be applied any small business. The Lifecycle Marketing is the Model includes three phases: Attract, Sell, and Wow.
Attract Prospects
Are your customers finding you? Getting noticed in this noisy world is critical, but it's not always easy to get the word out. The Attract Phase has three elements: developing your target market, attracting interest, and collecting leads.
Develop Your Target Market
The best way to get noticed is to narrow your focus on your ideal target customers. First, define your ideal target by researching their demographics, attitudes, behaviors, motivations and favorite places to hang out, both online and in person. Then, develop buyer personas for your ideal target market. Finally, start engaging with them.
Many entrepreneurs make the mistake of trying to target everyone. But when you target everyone, you reach no no one. We all think "everyone's going to want my product!". So, we try to sell to everyone. But, that mindset ends up costing you a ton of money and provides little return.
Attract Their Interest

Once you have a well-defined buyer persona, find out where they are most likely to come in contact with and be receptive to your brand messaging. Think about location both online and in person. Are they on a particular social media platform? Do they attend local business events? Are they members of a local community or work in the neighborhood?
After you've identified where they are likely to find you, start focusing your efforts there. Perhaps this means that you need to join the local networking group, open up a Twitter account, or spend some money on advertising. Be where your customers are and start engaging with them in an authentic, helpful and personable way. Some strategies and tactics that help with getting noticed include:
Content Marketing
Social Media Marketing
Advertising
Pay-per-click Advertising
Public Relations
Events
Direct Mail
Word of Mouth
Collect Your Leads Using Opt In Forms and Landing Pages
Make sure you have a way to collect and organize the contact information of your leads. Some business owners believe that putting up a form on their websites will drive consumers to opt-in to their marketing list. But a web form is not enough. You have to provide value to get value, and offer your visitors something that will entice them to give you their name and email address. We call these assets "lead magnets" or "irresistible offers".
Sell
Once you have your leads, how do you nuture them into becoming customers? Not everyone is ready to buy immediately, so you need to have a strategy in place that makes your product or service the obvious choice when they're ready to buy. This is your "Sell" strategy and has three stages: educate, offer and close.
Educate
Consumers will only pay attention to you when they're motivated to do so, and the best way to gain their attention is through interaction and education. Obviously, you'll need to understand your target consumers before you can educate them. You will want to refer to your buyer personas you created earlier to make sure you are providing content your leads are interested in.
As you build out your content strategy; consider how your message serves your target customer's basic, psychological or self-fulfillment needs. Then, build foundational content on your website, blog, social networks or other communication platform that meets those needs.
Building trust is essential and it takes time. Consumers will take more of what they need to know from organizations that give them what they want to know. Continue to be helpful and useful in the content that you provide always striving to create experiences that educate your customer. Connect with your potential customers by educating them on topics they care about at the time they care about them. Your content should be tailored to your buyer persona and their stage along the buyer's journey.
Offer
Create offers for each state of the buyer's journey from awareness, to consideration, and to close. These offers can be used to create opportunities for your lead to further engage with your company. For example, in the awereness stage, you would offer general information about the problem your prospect is trying to solve. In the consideration stage, you would more specific information about the solutions you provide, and in the close stage, you would offer a consultation or a quote.
Close
Closing the sale is not all about money changing hands. It's about excellence in delivery, great communication and establishing a lasting relationship. Automation can help you make the sales process go smoothly for both your customers and staff.
Wow Your Customers
When competition is fierce, you must differentiate your business from your competitors. If you're not differentiating your business based on price, you must differentiate it based on value. The best way to do this is by delivering a consistent "wow" experience to your customers each time you interact with them. The three stages of "wow" include: deliver and wow, offer more, and get referrals.
Deliver and Wow
Go above and beyond what your promised to earn your customer's loyalty. Of course, the first step is to make sure you deliver what you promised. But what if you sent all of your new customers a small gift (less than $5) or a hand-written thank you note? Get creative, your "wow" doesn't have to be expensive, it just needs to show you care.
Offer More
The second stage in delivering a "wow" experience is to offer more to your customers. Determining what to offer and when to offer it involves a bit of strategy.
According to Stephen Covey, the author of The 7 Habits of Highly Effective People, human beings have an emotional bank account. This account starts with a zero balance and fluctuates based on deposits and withdrawals. When more emotional deposits are made into consumer's emotional bank accounts, their trust and confidence grows resulting in stronger relationships.
The easiest way to make deposits is to determine how you can help your target customers and provide a solution. The solution doesn't have to be your specific product or service nor does it have to result in a sale. Your solution can be as easy as providing tips and resources related to their inquiry. The key to a strong relationship resides in your ability to make more deposits than withdrawals.
After you've made a few deposits, you'll be in a position to make a withdrawal. Timing and positioning is important. Here are three ways to tactfully increase your revenue while continuing to be helpful:
Cross Sell: Customers aren't always aware of the perfect product or service pairings and may be willing to purchase related items that enhance their experience.
Upsell: Listen to your customers and try to understand their needs. They might be willing to pay extra for special treatment, warranties or monthly programs.
New products: Remember to help your customers by identifying things that will enhance their lives by notifying them of new products or services.
You'll spend less money marketing to existing customers than trying to attract new ones, so that's why it's so important to wow them from the start. Anticipate their needs and deliver more than what you promised in either quality, quantity or by recommending something that satisfies their needs. Leverage your strengths because that's what sets you apart from your competition and don't be surprised if you start hearing from their friends. Referrals are one of the cheapest ways to expand your business; wowing your current customers is the fastest way to earn referrals.
Asking and rewarding customers for a referral completes the "wow" experience. Effective referral programs are a big win for small businesses because they help customers develop habits that include your company. Consider establishing a referral program with rewards that are easy to obtain. Providing small gift cards, discounts or movie tickets for referrals is a great way to demonstrate your appreciation.
Make it easy for your customers to refer you:
Create landing pages for customers to refer
Have sharing options available on your site
The easier you make it; the better your results
Conclusion
We covered a lot in this blog post. But keep in mind you don't need to do everything, and you don't need to do it all at once. Instead, commit to implementing one thing. And please let me know in the comments what you chose to implement and your results. If you want to learn more about Lifecycle Marketing, sign up for our free Webinar.