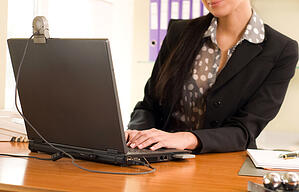 If you've been reading our blog for any length of time, you know that we advocate blogging as a critical element of your online marketing strategy. Blogging is absolutely critical to your inbound marketing success. According to data gathered by HubSpot, businesses that blog get 55% more site visitors, 97% more inbound links, and 70% more leads than those who don't. In addition to the SEO benefits, lawyers can also use blogging to position themselves as experts in their field.
Here are our top tips on how to launch a law firm blog that will get you more visitors, leads and clients.
Do some reaseach by subscribing to other legal blogs to get ideas for content and topics. Look at competitors and lawyers in complementary practice areas.
Make sure your blog is hosted on a branded domain that you control.
Post 1-3 times per week, and remember that it is usually better to post several short articles rather than one long one.
Do not use your blog to promote your services. Your blog should be focused on the needs and interests of your ideal target client. Your goal is to educate your reader with blog articles that position you as an expert without trying to sell them on your services.
Use a blog optimizer tool (such as the one available in HubSpot) to make sure your blog is SEO optimized for the right keywords.
Share your blog posts to your social media accounts automatically. This should include your LinkedIn profile, your Facebook company page, and your twitter account.
Brainstorm topic ideas based on your keyword research and target market and develop an editorial calendar for your first few weeks of blogging. Remember to be creative and strategic in choosing topics. You can blog about local events, news, and legal developments in your practice area. But don't forget to keep your audience in mind when you choose topics. Make sure your topics are interesting to your target reader.
Get your first posts written. If you have more than one attorney at your firm, it is helpful to get everyone involved in writing to ease the load of content production. If you don't have time to write, hire a ghost writer to write your blogs for you.
Evaluate your results. See which types of blog posts get the most comments, links and shares and use this information to develop additional topics.