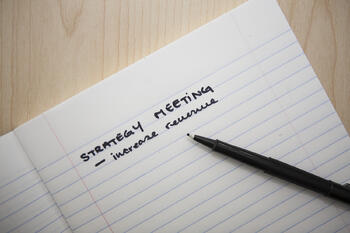 I love inbound marketing. I have seen time and time again how education based marketing combined with blogging, social media engagement, calls to action and landing pages can turn a static traditional website into a lead generation machine. But as much as I belive in inbound marketing, I don't think a business can thrive by inbound marketing alone.
Depending on your target market and the buyer personas that you are trying to attract, you may participate in trade shows, send direct mail, sponsor community events, and participate in networking groups. All of these methods can be used to leverage and enhance your inbound marketing efforts and increase your results. Some of the strategies that have worked with our clients are listed below:
Trade Show Sponsorship & Exhibits. These can be a great opportunity to grow your list. But don't spam the entire list of conference attendees by adding them to your newsletter as soon as you get back to your office. Our best practice is to send an email a few days after the conference thanking them for participating in the conference and inviting them to join your list or subscribe to your blog.
Display Ads in Magazines. Most of my clients are moving away from the use of display ads altogether, but there are certain niche businesses where it can be a good way to expose your brand to your target market. Our tip here is to include a call to action and direct traffic from the ad to a landing page on your website (use a unique url just for this page). You will be able to increase your response rate and also track your results so you can make better decisions about advertising in the future.
Direct Mail. Again, this is a strategy I rarely use anymore, but sometimes you just want to get something in your prospect's hands. It is critical that your list is highly targeted, and that you include a strong call to action that leads the prospect to a landing page with a unique url or 800 number so you can track your return on investment.
Networking and Referral Marketing. This is a great way to build your list if you are just starting out and don't have a lot of website traffic yet. It takes time, but going out in your community and making connections with other business owners can expose you to a lot of people in a short amount of time. The best practice here is to not automatically add every person you meet to your email list. Ask for permission by sending them a compelling initial offer to either join your blog, download a white paper, or register for an event. Referral marketing is an art, and is all about adding value, which makes it a great fit for content marketers.
Public Speaking. Making presentations positions you as an expert in your field and can also help you grow your list. Find associations in your area who have monthly lunch meetings and pitch your speaking idea. My favorite strategy is to offer a copy of my powerpoint slides to anyone who gives me a business card at the end of my presentation. I then follow up with an email including the slides and an offer to opt in to my blog subscription or newsletter subscription.