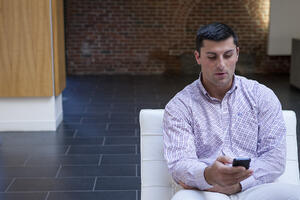 Is your LinkedIn Profile working for you? Here are some tips that will show you how to make the most of your LinkedIn profile.
Make sure your profile is complete. LinkedIn is the online resume of social marketing, and many people find new jobs and clients using LinkedIn, so make sure your profile is accurate and complete.
Claim your url. Instead of a messy url with lots of numbers, you can change your profile url to your name. For example, mine is www.linkedin.com/in/myrnaarroyo/. You can claim your name on LinkedIn visiting this link.
Include key search terms in your profile summary to help your SEO. You can include key search terms in your headline or your summary to help your prospects find you when they are searching for people who do what you do.
Export your connections to your contact management system. Want to connect with your LinkedIn connections by email? You can export your contact's information to a csv file and import them into your email software or other contact management tool.

Under

Network

in LinkedIn's top navigation, just click on

Contacts

, click the settings gear icon on the top right, and click "

Export LinkedIn Connections"

under "

Advanced Settings"

on the right. You'll have the option of either exporting as a .CSV or .VCF file. Now you can import that file and send a tasteful email inviting your connections to subscribe to your blog or email newsletter.
Join relevant groups. Joining LinkedIn groups allows you to connect with others in your industry and can help you increase the size of your network.
Use LinkedIn to generate leads.

In an

internal study of HubSpot's customer base

, they found that traffic from

LinkedIn generated the highest visitor-to-lead conversion rate (2.74%) of the top social networks, almost 3 times higher (277%) than both Twitter (.69%) and Facebook (.77%).

You can promote your lead generation pages in LinkedIn Groups, on your Showcase Pages, and in calls-to-action placed in posts you publish on LinkedIn.