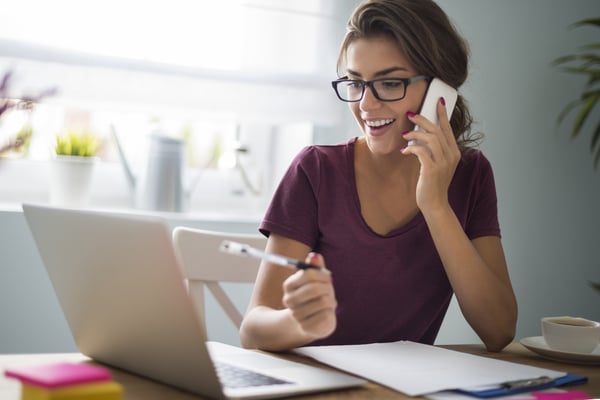 Marketing is important for generating new leads for your business, but without the proper sales follow up, these leads are wasted. A recent study on lead response times by Drift found that 58% of the 500 B2B companies didn't respond to their website inquiry at all, and only 10% responded within the recommended time frame of 5 minutes. If your company is not responding to inbound leads within an hour or two, you are likely missing out on potential sales. Your inbound strategy needs to include sales, otherwise it won't help generate revenue. Here are some tips to help you design a process to help you turn website leads into sales.
1. Get your marketing and sales teams on the same page.
Make sure you have clear definitions for your sales process stages, and that your sales and marketing team members agree on your revenue, lead, and client goals. For most companies, this starts with a Lead, which is defined as any person who fills out a form on your website. As you connect with your leads and qualify them, they may move into the Opportunity stage, and then into Qualified Opportunity, until they finally become a Customer.
2. Research your leads before reaching out.
Before you contact a lead, do a little research. Find out about their company, industry and job role. Make sure you check for company or industry news that mentions the company, and check out their social media profiles. HubSpot provides a form you can use to organize your lead research, which you can download here. This will help you qualify and prioritize your leads so you can focus on your best opportunities first.
3. Use lead intelligence.
Lead intelligence can be very useful in prioritizing your leads for follow up. You should find out:
How often your leads have visited your site?
How many pages have they looked at?
What forms have they filled out?
These behaviors will give you clues as to where they are in the buying process. Not all leads will be ready for sales calls. For example, if someone simply subscribes to your blog, you probably don't need to call them. But if they download a brochure, visit your pricing page, and spend time on your product pages, this may indicate that they are ready to be contacted by your sales team.
4. Use your research and lead intelligence to prioritize your leads.
Based on your research above, you should be able to answer the following questions about each of your leads so you can prioritize them.
What they do (3-10 word description of their business)
Who they sell to (industries they serve and their buyers)
Why customers would buy from them instead of competitors
Any red flags
Level of

sophistication

in your industry
Trigger events (both personal and/or business related) - For example, do they have a published job opening for a role related to the service your provide? Did they recently receive a promotion or obtain funding?
Create a lead grading system for your company. It can be as simple as categorizing leads as High, Medium or Low. This will help you focus your time and efforts on the best leads. If you have less than 150 leads per month, you can do this manually. Once your start to generate over 150 leads per month, you

should create automated follow up systems and lead scoring to focus your sales team's time on high

priority

leads and letting the automated system nurture the others.
5. Use a connect call to qualify and build rapport your leads.
Many companies rely on automated marketing emails to do initial follow up with the leads that come in through their websites. However, if you really want great sales results, you should have your sales team pick up the phone and try to connect with the prospect. The goals of the initial connect call are to establish a relationship, build credibility and trust, and decide whether the lead is a good fit for a follow up exploratory call. This shouldn't be a high pressure sales call, but simply a member of your team reaching out to see if they can offer additional help. When you make a connect call you need to:
Build rapport with your prospect by finding common ground and showing them you understand their goals and challenges.
Know your audience. Make sure you know who you are talking to. Are they a decision-maker or influencer? What is their role in the buying process for your product or service? Make sure you speak to them in language that resonates with them.
Speak their language. Weave in industry terms to show you understand their industry.
Be helpful. Make sure you leave the prospect with a tip, an educational offer, or other content that helps them solve their problem.
6. Use a Voice Mail/Email sequence when a lead does not answer the phone.
You probably won't get all of your leads on the phone the first time you call, so you should have a series of templates for voice mails and emails set up for this situation.
Create a sequence of voice mails. Depending on the length of your sales cycle, you may decide to leave 2-5 voice mails before giving up on a lead.
Follow up with an email immediately after leaving the voice mail.
Follow the call, e-mail, call, e-mail approach when connecting with leads.
Create a break-up message. If after the voice mail sequence is complete you don't hear back from prospect, leave a break-up voice mail and email. The break-up email let's them know that you won't continue to call them but leaves the door open for them to reach out to you when they are ready.
When you leave these voice mails and emails, be sure to offer value. You don't want to just say what you do and ask them to call you. You want to offer them something valuable that is related to the content they downloaded from your website. For example, if they downloaded an ebook on blogging tips, you may want to let them know that you took a look at their blog and have two suggestions for improving it.
Want some help setting this up for your business? Use the button below to schedule a call with me to discuss your company's growth strategy.