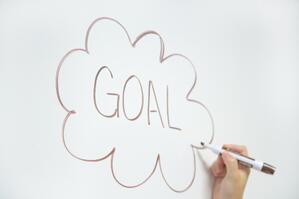 Welcome to our new blog series on law firm inbound marketing. Over the next few weeks, I will be writing about the key elements of your law firm's inbound marketing strategy. If you follow these blog posts you should be able to develop your own inbound marketing plan that will help you achieve your goals.
Before we start goal setting, you should understand a few things about inbound marketing. First, inbound marketing is an investment in your law practice, not an expense. Unlike an ad that you pay for each month that is shown to your audience for a set period of time, inbound marketing creates assets on your website in the form of blog posts, landing pages, and links. As you build out your inbound marketing campaign, these assets will continue to work for you to attract visitors to your website which you can capture as leads and convert into clients.
Second, you should remember that inbound marketing is a marathon, not a sprint. You won't see immediate results. But if you remain consistent in your blogging and persist through the first few months, you will start to see the rewards of increased traffic, leads and clients.
Step 1
If you decide to commit to inbound marketing, the first thing you will want to do is set goals for your efforts. Here are some examples of goals you may have:
Build awareness of your law firm's brand in your local market
Increase average revenue per client
Increase monthly revenue
Attract more traffic to your website
Convert more site visitors into leads
Convert more leads into clients
Increase the size of your email database
Get more referrals from your existing clients
Sell additional services to your existing clients
The key is to pick the goals that are most important to your law firm, and to make sure they are specific and measurable.
Step 2
Now that you know where you'd like to go, the next step is to see where you stand today so we can figure out how much effort will be required to get you to your goals. You will need to know the following numbers for each of your marketing sources.
Monthly website visitors
Monthly leads generated from each of your marketing activities such as your website, networking, or advertising
New clients acquired each month from each source
Average revenue per client
New revenue booked each month
If you haven't already been tracking these numbers, now is a good time to start. Google Analytics is free and will provide the website information you need. For the others, you may need to set up a tracking system to track the phone calls coming into your office. If you are not sure where you stand, use an estimate so you can get started and work on setting up the systems you need to start tracking these important numbers.
Step 3
Use our inbound marketing calculator to calculate how much website traffic you will need to reach your inbound marketing revenue goals. Use the data from Step 2.
The calculator determines your traffic, lead and customer acquisition goals based on your monthly new revenue targets.
You'll plug in your revenue goals and your current stats from Step 2 into the calculator. The calculator will tell you how much traffic and how many leads you need to generate in order to hit your revenue goals. It'll also help you evaluate which inbound marketing activities to implement first by letting you vary your lead to client and visit to client conversion rates to determine your traffic and lead requirements.
For example, if you improve visit to lead conversion rates, you'll need less traffic to hit your revenue targets: Therefore, it would make the most sense to create more offers, build landing pages and prominently place calls to action on your website in order to convert more visitors to leads. With diligence, it is possible to increase your visitor to lead conversion rate to 5+%. Most websites convert traffic into leads at 1-2%.
These traffic, lead and conversion targets will help you decide the appropriate amount of resources (ie time and money) to commit to inbound marketing activities. Since inbound marketing is infinitely measurable and somewhat predictable, setting goals now will also help you to measure your monthly results against your goals, allowing you to improve key metrics over time.
Need help? Would you like us to walk you through this process in person? Sign up for a live workshop below.