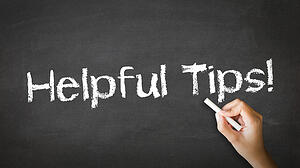 Many small businesses are under constant pressure to conserve cash and lack the robust marketing budgets of their larger competitors. How can you compete, especially when you are just starting out? Here are my top 10 low cost marketing ideas for small businesses who want to grow without spending a fortune.
1. Develop Detailed Buyer Personas for Your Ideal Clients.
If you don't have a deep understanding of who you are trying to attract, your marketing is likely to fail. You need to know who your clients are, where they hang out, and what they like to read and do before you can reach them effectively. Read more about how to build buyer personas here.

2. Organize Your Email List.
Get a list of all of your existing contacts who may be interested in your product or service, or who would be able to refer you to others who are. If you lack the funds to invest in a full-service marketing automation platform like HubSpot, find an inexpensive email service provider, such as Constant Contact or Mail Chimp, and sign up. You will want to segment your list so that you can send targeted emails to each group.
3. Create an Offer That Your Buyer Persona Won't be Able to Resist.
This is where your buyer persona research pays off. What are they worried about? What is keeping them up at night? What do they desire? Create an offer that moves them to respond. It could be an Ebook, a Checklist, a Tip Sheet, or a video. The key is to make it irresistible, and to ask for their email address before they are able to access it. Put a link to your offer on the home page of your website, where everyone will see it.
4. Follow-up With Your Leads.
Once you have a lead who downloads your offer, follow up by email. Most email sending services provide an auto-responder option that allows you to automate follow up emails to your prospects. If you want fast results, you should also call your leads to follow up on the content they downloaded. Again, make sure your communications add value and address their questions and concerns, and are not just sales pitches.

5. Stay in Touch with Your Contacts.
Stay in touch with your contacts by sending them an email newsletter monthly or weekly. This can be an inexpensive way to stay top of mind with your prospects. Just make sure you follow email best practices so that your emails will actually get opened. Remember to make it about them, not you.
6. Get Out of Your Office and Network
Don't just rely on internet marketing. Get out of your office and visit chamber meetings, industry association meetings, and any other events where you are likely to meet your buyer persona. When you meet them, find out as much as you about them and how you can help them. Then invite them to join your email list and get their contact information.
7. Follow Up With Your New Contacts
Once you meet these new contacts, you must follow up. Otherwise the networking event was just a waste of time. Send a personal note by snail mail (best) or a personal follow up email that lets them know you were listening. If they are a good prospect for future business or referrals, set up a follow-up meeting so you can get to know more about their business and explore opportunities together.
8. Attract New Traffic to Your Website With Blogging
Write helpful blog posts and articles that answer the questions your buyer persona has. In my experience, you should blog at least twice per week. Make sure each blog post has a call to action at the bottom and drives your reader to download your offer. Your blog should also allow readers to subscribe, so they will receive updates whenever new posts are published. This won't give you results overnight, you should plan on blogging for at least 4-6 months before you start seeing increases in web traffic. The sooner you start, the sooner you will start to see results.
9. Promote Your Content on Social Media
Use social media to promote your content. Your blog posts, offers, and events should be posted on your business pages. You should establish a business presence on the networks that are most likely to be seen by your buyer persona. As with everything you create, your posts should about topics that interest your buyer persona. Don't make them all promotional and don't make them all about you.
10. Monitor Social Media Activity to Find New Leads
Social media is not just a megaphone for blasting out your content, it's a place to interact with potential customers and clients. You should monitor your networks frequently and respond to comments and questions, there could be valuable leads there! Download this free workbook to learn how to use social media to generate leads.
If you are feeling overwhelmed and are not sure how to get started with all of this, you may be interested in booking a Free "Get Clients Now" marketing coaching session with me.