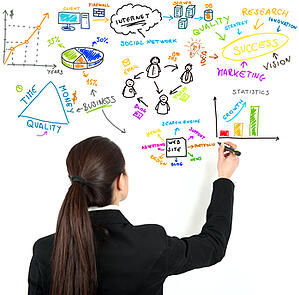 Creating an effective law firm marketing website requires careful planning and execution. Many marketers want to just jump into the building phase. But without the proper strategy, it is going to be difficult to end up with a website that meets your firm's goals. As a marketing director or owner of a law firm, you should follow the steps below to get the best return on investment from your law firm's website.
Phase 1- Develop Your Strategy
During this phase, you should work closely with your web designer and inbound marketing consultant to develop a strategy for your website that addresses the following elements:
Your Law Firm Goals. What do you want this website to do for your firm? Is the purpose of the site to generate more traffic, leads or sales?
Your Ideal Client Personas - Who is this website for? Understanding your client personas is critical for copywriting and designing the content on your site. The finished product needs to appeal to your ideal client persona.
Research - Your web designer needs to understand your company and industry to develop effective strategy for your website.
The Navigation Structure - How are the pages of your website organized? How do they link up to each other?
Opportunities for Personalization - How can we target content to different visitors? Personalization will allow you to serve different content to visitors based on their persona profile, browsing behavior, or other factors, and is a great opportunity to improve your visitor experience.
Wireframing -What goes on each page and how is the content laid out? The best web designers will wire frame every page prior to building anything.
Depending on the complexity of your project, the strategy phase of a website project could take from 50 to 100 hours.
Phase 2- Build
With a great website blueprint in place, now it is time to create your website. Most web design firms are great at putting together web pages and graphics that look good, but writing copy can be a challenge. It is usually well worth the price to hire a professional to write your website copy. Great website copy:
Uses small paragraphs, bold headlines, bullet points and graphics
Addresses your potential client's pain and how you solve it.
Persuades and tell a story to win over your visitors.
Is all about your website visitors, not your law firm.
Once everything is in place, and the site is tested and proofed, launch the site.
Phase 3 -Enhance and Evolve
Your law firm's website is never done. Once it is launched, you need to measure how your website is performing so you can evolve and improve. You should monitor traffic, leads and sales monthly to see how the different elements are performing.
You should also add new content to your site regularly through your law firm blog and the creation of premium offers and landing pages. Keeping your website updated and dynamic will please both your potential clients and search engines, and will ensure that your new website is not just a pretty brochure, but actually helps you get clients for your firm.