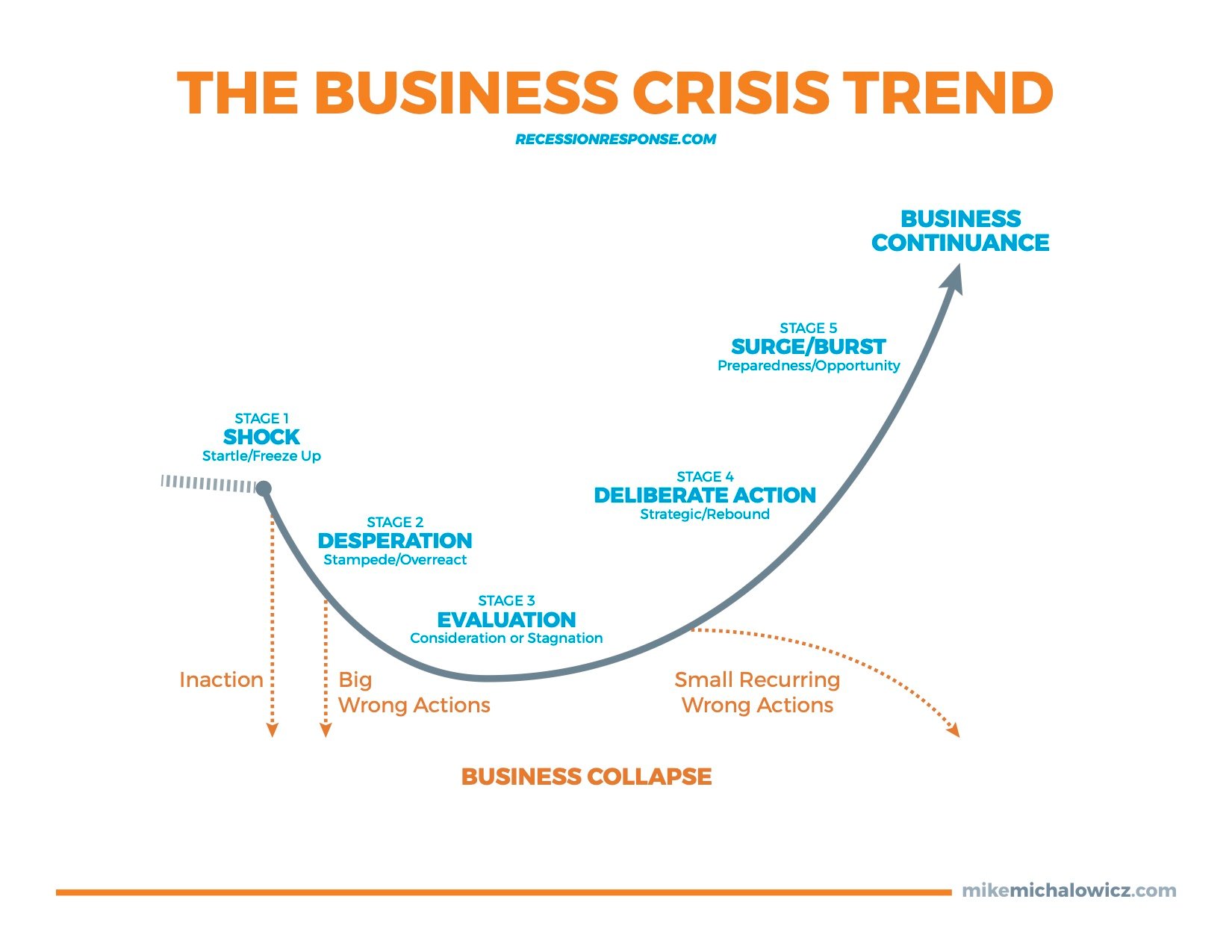 When crisis strikes, business owners go through 5 stages, similar to the 5 stages of grief, as they react. This COVID-19 situation we all find ourselves in is no different. Here are the 5 stages you will probably experience, as explained by one of my favorite business authors, Mike Michalowicz.
Shock
The first stage is shock, which is where a lot of business owners find themselves right now. You may find yourself in denial, arguing that this is not such a big deal, or paralyzed because you don't know quite how to process the news that your business will be closed for weeks, or that your revenue is falling significantly. Many business owners will freeze and bury their head in the sand. While it's normal to go through this, if you linger in this stage too long, you could end up failing, because you won't figure out how to be of service to your clients during this time.
Disorientation
Once the shock passes, the next phase is disorientation. You're probably going around in a daze wondering what you should do next. This may lead you to take random actions without considering the long-term impact of those actions. Some examples of reactionary actions include: taking on as much debt as possible while your credit lines are open, taking cash advances on credit cards, deciding to keep all of your employees and paying all the normal business expenses, and cutting expenses without thinking through the decision. These actions may give temporary relief, but could create problems over the long run.
For example, during this COVID-19 crisis, many businesses have stopped all marketing. While it may be wise to cut some of your marketing activities at a time like this, make sure you still communicate with your clients and prospects. Otherwise, the long-term impact of this on your business may be that your warm audience is now cold because they haven't heard from you in months.
The disorientation stage is where business owners make the mistakes that hurt the ability of their businesses to come out on the other side of the crisis. And although it is natural go through this stage as you process the crisis, you want to move to the evaluation stage as quickly as possible.
Evaluation
This is where you measure the actual impact of the crisis on your business metrics and get the data that will help you figure out what your business really needs to make it out of the crisis. It usually takes two to four weeks to see the impacts. COVID-19 has already affected revenue for many businesses, particularly those that have been forced to close, such as cruise lines, travel companies, restaurants, gyms, and spas.
Some metrics that you should track include cash flow, revenue, and expenses. How is the current situation affecting you? This is not the time to go with our gut, look at your actual numbers. How large is your revenue drop? Are clients asking to cancel? How about new leads? Are you getting any?
Deliberate Action
Once you have your data, it's time to make some decisions and take deliberate action. The current crisis will end. And on the other side will be pent-up demand, so you want to make sure your business will be in a good place to capitalize on it. So don't let your gut lead you in the wrong direction, look at your data.
In this stage you will use your data to make decisions that will allow your business to survive and grow, despite the current crisis. Many of your competitors won't do this, and many will go out of business because of it. Ask yourself the following three questions:
1) How long can my business continue if the crisis persists?
One of the most helpful exercise you can do at a time like this is project your cash flow over the next twelve months. This will tell you how long your cash reserves will last, and help you decide if you should borrow money or cut expenses to make sure you're you can sustain the crisis. There are lots of government programs to help small businesses, but if you don't know your numbers, it's hard to decide which ones will benefit you the most.
2) How can you shift your offer to be of value during this time?
If what you do has become impossible because of the crisis, what else can you offer the market? Is it possible to shift in your offer to be of service to your clients?
For example, many restaurants that were forced to close their dining facilities are now offering meals for takeout and delivery. Many gyms and personal trainers have moved to offering training sessions online. While this may not replace all of their revenue, it's a way to generate cash flow during their closures so they can continue to operate.
3) What is your most important next step?
What is the next thing you need to do to move your business forward? What is the one thing that's most impactful for your business? The business hierarchy of needs is a great tool to help you figure this out.
Burst
Eventually, the crisis will pass, and there will be a burst of new activity. We don't know when, but it always happens. There will be pent-up demand, and there will be less supply because some of your competitors will be gone. You need to be prepared for the surge. This doesn't mean you should hire people before you need them. But you can lay the groundwork to prepare for the increased demand.
Next Steps
When things are going crazy, working with someone with an outside perspective can help you get clarity. As a Fix This Next Coach, I can help you assess your business and focus your attention on the one thing you need to do next. To learn more, book a complimentary assessment.