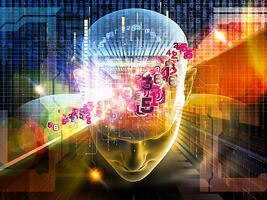 Mindfulness was in the media quite a bit last year, in fact, many have dubbed last year the "Year of Mindfulness". As people learn and adapt into this new way of life as more research comes out to support its power in the workplace and beyond. With the New Year upon us, it is valuable to take a look at the important of mindfulness in inbound marketing goal setting.
What is Mindfulness?
According the Merriam-Webster dictionary; Mindfulness is heightened observation and observance of the world around you, being in tune to your knowledge base, emotions, and experiences as well as maintaining a nonjudgmental state throughout. In short being mindful is be aware of everything in the present moment rather then what may or may not come next. Being mindful means you are connected to the present moment, body and mind together feeling where you are and assessing what needs to be done in the now.
Mindfulness is achieved through the practice of meditation, essentially it is exercise for your mind. As you exercise, your muscles tighten and release as you will them to, you become stronger, more agile and after being sore for a week or two, you begin to have more energy. This is the same principle with meditation, except instead of working out your body, you are willing your mind to relax and bring your focus back to what is presently at hand. With proper training many industry leaders have used mindfulness through meditation as a technique to relieve stress and not be as distracted in the workplace from technology and other means.
How Can Mindfulness Be Used in Our Inbound Marketing Strategy?
It can be very stressful keeping up with campaigns, blogging, social media, and constant revamping of your content. Not to mention inbound marketing is mostly done through technology, which is distracting in itself. This is why it is essential to bring in meditation and mindfulness into your strategy, by first taking the time to relax and bring your focus on the task at hand then using our focus to see what our consumer base needs and wants.
As we engage our customers with content they enjoy we are being mindful of their value and influence on us and others. Within the Inbound Methodology each of the four stages is influenced by our visitors and customer behavior. In the moment when we are trying to attract convert, close and delight we must be aware of what they are looking for.
Attract: When we write our blogs, calls-to-actions and web pages we all must be mindful of who will be looking and assess what needs to be changed or added.


Convert: As we begin to convert these visitors into leads we use wording that appeal to them, we open up that conversation or wanting to learn more by our awareness of what they need and want.


Close: When we give them a call or send them an email, we must be aware of where they are, where we are and what we want this relationship to grow into.


Delight: Continuing the communication being forever aware of how the customers enjoys their product and how you can further assist them.
When you get stressed out with your work remember to refocus, relax and look back to what needs to be done today, your clients and your mind will thank you. If you want to be less stressed out this year about your inbound strategy our SMART goals template will help you focus the goals you want for this year.