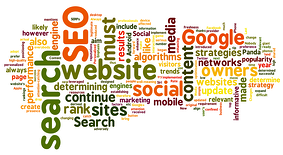 As a marketing consultant, I help small businesses and professionals with inbound marketing. What I see over and over, is businesses who spend thousands of dollars on a custom web design. If they hired a good web designer, the site is beautiful. But as months go by, the business owner wonders why he isn't getting any leads.
That's where I come in. I help turn those online, static brochures, into interactive lead generation machines for my clients. Here are the most common problems I see with small business websites:
It's all about you, not about your target market. Your website should be designed to serve your ideal target market. They don't care about you, they care about what you can do to solve their problems.
There is no call to action. I am surprised at how many websites lack a clear call to action, and you probably need more than one. Only a small percentage of your visitors will be ready to buy or make an appointment on the first visit. Your website should include some smaller calls to action to entice those still shopping around to interact with you. The best way to do this is to offer valuable premium content, such as an ebook or a white paper on your site.
There is no blog, or other educational content. I am sure you have heard this a million times, but a blog is a great way to drive traffic to your website. Search engines tend to reward websites that have meaningful and educational content, and a blog is a great way to build up content on your site. Your blog articles should not be advertisements for your business. They should educate, entertain and inspire your target market. Blog regularly and often, at least twice per week.
There is no lead generation offer to engage your potential customers. If you have some great white papers or ebooks on your site, put them behind a landing page and ask for your visitor's email addresses in exchange for access. If the content is good, people will be glad to share their contact information and now you have a list of prospects you can nurture.
The site is not SEO optimized for relevant keywords. There are several simple things you can do to optimize your site for search engines. Once you determine the relevant keywords for your target market, you can create content for your website that features those keywords. By using keywords in titles, header tags, and image tags, as well as in the body of your content, you can increase the chances of having your blog post be picked up when those words are searched. However, your priority should always be to create quality content for human readers, not search engines.
The home page is confusing. Before you launch a site, ask someone, preferably not from your industry, to take a look at your home page. Can they tell you what the website is about in 5-10 seconds? If not, you many need to go back and make it clear. A visitor will scan your home page and unless they can easily find what they are looking for, they will quickly move on to the next search result.
The great news is that all of these things are easy to fix, and you can do a lot of it yourself. Want to get an assessment of where your current website stands? Request a free inbound marketing assessment using the link below.