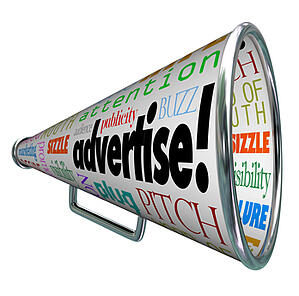 You have probably noticed that there seems to be no such thing as free advertising on Facebook anymore. As the average user's news feed becomes more and more crowded, the likelihood of a given fan of your business page seeing your updates is shrinking.
"At any given moment, there are approximately 1,500 News Feed stories competing against one another. Facebook's algorithm prioritizes only about 300 – one fifth – of them. The brands that want to get noticed have to pay to play." Hubspot.
Organic reach is declining. As of February 2012, only 6% of your fans are likely to see your posts on a given day. The days of "free" Facebook advertising are nearly over. To get the attention of your fans, you will need to start paying for Facebook advertising. So here are some tips for advertising on Facebook.
What Should You Advertise?
You can create different types of ads on Facebook to achieve any of the following goals.
Grow your audience through new 'Likes;'
Drive traffic to your site;
Drive people in-store with a redeemable offer;
Drive event attendance;
Create awareness with an image or video; and
Drive installs of an app.
If you are looking to increase your website traffic, leads and sales, you probably want to advertise posts that contain a link back to your website or landing pages. We recommend using Facebook ads to promote landing pages and offers that drive visitors back to your website and encourages them to convert into leads by filling out a form and giving you their email address. This way, you can use Facebook ads to grow your email list and promote specific offers.
Create Engaging Facebook Ads to Promote An Offer
One of our favorite ways to advertise on Facebook is to use the "Boost a Post" feature. This increases the chance that your target market will see a particular post from your page. Here are some tips for creating engaging posts:
Always include an image with an image ratio of 1.91:1. Ideal image size is 1200x627px. Posts with images get more engagement, so invest in the time to create a compelling image for your ad. If graphic design is not one of our talents, you can use tools such as Canva and MS Power Point to create images for your posts.
Keep your ad copy to less than 90 characters so it won't be truncated anywhere on Facebook's ad platform. Make sure your copy includes an actionable call to action.
Include a URL with a link to the landing page for the offer.
Make your link title less than 25 characters and your description less than three lines of text.
Target Your Ad's Audience
Make sure you target your ad so that your posts are shown to your target market. To get the best results, you will want to spend some time making sure you are showing your ad to the right people at the right time.