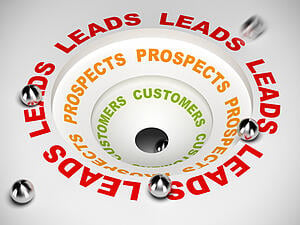 The three primary goals of inbound marketing are to increase web traffic, increase lead conversion rates, and ultimately get more clients. If your website is getting significant traffic, but less than 3% of your traffic is converting to leads, here are some tips for improving your lead conversion rate.
Optimize Your Content Strategy
Make sure you are making the right offers to the right people at the right time. Your content should be mapped both to your buyer persona and their stage along the buyer's journey. This means you need to have appropriate offers that address the awareness, consideration, and decision stages of your ideal client.

Create quality content and offers that appeal to your buyer personas. Segmentation and personalization of your website content can help you ensure that your prospects see the offers that most interest them.

Make sure your content is published frequently to both your blog and social media channels that are important for your buyer personas. You need to think like a media company in creating content, and maintain a regular publishing schedule. You also need to look for places to promote that content, such as social media, LinkedIn groups, and other outlets where your buyer persona is likely to see it.

Create at least one new lead generation/lead nurturing campaign per month. The more opportunities you provide for conversion, the more leads you will get. According to HubSpot, companies with 30 or more landing pages generate 7x more leads than those with fewer than 10.

Create compelling calls-to-actions and landing pages for lead conversion. Look to your buyer personas and design offers using language that will appeal to them.

Maintain dedicated content creation/editorial resources to maintain the consistency and quality of the content you publish. For some companies, this will be a an in-house position. For others, it might be best to outsource this to an inbound marketing agency. Creating great content is a lot of work, so you will need to make sure you have allocated sufficient resources to it.
Optimize Your Conversion Assets Through Testing
A/B testing is the practice of creating several versions of elements on your website pages and emails, randomly serving them to your audience, and then gathering the results to see which versions led to the most conversions. You should use A/B testing to test different versions of calls to action and landing pages as well as email subject lines and content. This will help you figure out the types of offers that work, and create more of those to improve your results.
Use Lead Nurturing to Increase Conversions
Make sure every lead generation offer on your website has a lead nurturing sequence. Many leads who download an offer will not move to the next step in the buyer's journey immediately. By nurturing these leads with additional offers and content, you can slowly move some of them along until they are ready for sales follow-up. According to Forrester Research, companies that excel at lead nurturing generate 50% more sales ready leads at 33% lower cost.
Would you like an assessment of your website's lead conversion rate? Request an inbound marketing assessment and we will take a look at your site and give you our recommendations for improving its performance.